Wortschatz zum Thema "Clothes"

International bekannter Wortschatz (Anglizismen):
T – shirt, sweatshirt, top, tank top, cap, pullover, sportswear, anorak, jacket, blazer, jeans shop, fashion show…
A pair of: jeans, leggings, shorts, (boxer-) pants, socks, shoes, sandals, boots, trainers (BE), sneakers ( AE)
Sizes: XS, S, M, L, XL, XXL
S: small, M: medium, L: large, X: extra
Den rechts abgebildeten Arbeitsbogen können Sie durch anklicken vergrößern:

Weiterer Wortschatz:
Trousers, shirt, tie, suit, dress, skirt, blouse, scarf, hat, waistcoat, tights, night – dress, pyjamas, nightie (for women), bathrobe…
underwear: vest, pants (for men), boxer shorts, slips or knickers (for women), bra…
winter clothes: mittens, gloves, wellingtons (wellies), boots, woolly hat, coat, raincoat, anorak, jumper, cardigan…
sportswear: T - shirt, sweatshirt, tank top, leggings, leg – warmers, boxer shorts, cycling shorts, jogging pants, training suit / track suit, belt bag, helmet, backpack, trainers (BE), sneakers (AE), swimming trunk (for men), swimsuit (for women), bikini…
colour, size, logo, brand, pattern, material
material: cotton, wool, silk, polyester…
patterns: striped, checked, polka dot (gepunktet), print, plaid
to wear, to put on, to take off, to buy, to try on, to take it, to wash, to clean, to hang on the line, to put it in / on / under , to dry, to iron…
washing machine, tumble dryer, iron, label …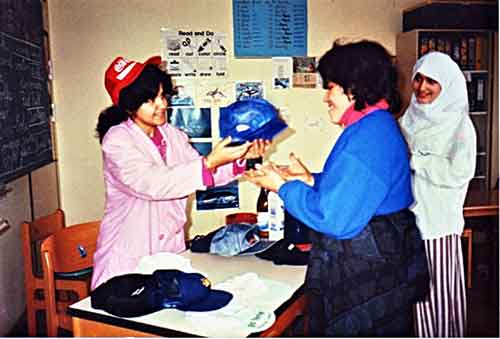 Satzbaumuster:
What is it? It`s a/an ... This is a/an…
What colour is it? It`s … What colour are they? They are ...
What is he / she wearing? He / she is wearing… What are they wearing? They are wearing…
Do you like the …? I like it. I like it, too. I don`like it. I like my / your …
What is your favourite …? My favourite … is …
It`s / This is my favourite…They are my favourite…
It`s nice, cool, modern, cosy, practical, warm, old, new, perfect …
It`s (too) long, short, large, small, tight, loose…
It fits me. It doesn`fit me / you / her / him.
I wear this very often, every day, in winter, in summer, to school, for the party …